Our brand, previously known as F.lli Bottero and later changed into Bottero Ski, is born on 1946 from the passion and determination of Agostino Bottero.
Agostino, a top level competitive skier, suffers from a major injury to the femoral artery druing the first Carnival festival right after the end of the war. A terrible accident that he manages to survive, but at the price of the amputation of a leg.

The strong and obstinate young man however, decides that this event will not define the course of his life, it will not be this to end his undying love for skiing.
He then gets on top of the highest peak of the village, carrying only one ski on his shoulders and a couple of crutches to wich he previously applied a tiny ski.
He puts on that one ski and rushes to the rink. He has decided to challenge fate, and wins the challenge, surviving the daring descent.
And just like that, with a resolute and renewd spirit,
he transforms his passion into a craft
 With the small sum coming as compensation for his accident, he rents a small shack near the  pitch where the first skiers are starting to gather up to enjoy the sport, buys the necessary materials and starts making skis that he will later rent in the first rental place of Limone:
wooden skis with bolted edges and clips.
With time and increasing success, the business expands, including the sale of clothing and other ski brands and thus taking over the marketing production. This makes it possible to transform that small hut into a masonry shop that gets expanded every season.
At the end of the 80s, when Agostino was replaced by his sons in the family business, Bottero Ski was a well-known and well-established company in the entrepreneurial landscape of Piedmont, Liguria and the Cote d'Azur, with its main store extending over 2000 cubic meters.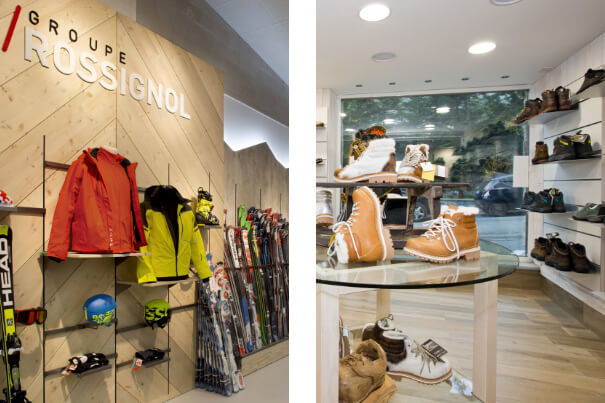 In the 90s, Bottero Ski gets back on the production of skis, paying homage to the origins of the business and Agostino's legacy and facing the evergrowing need of the sports and ski market for Made In Italy products that are created with care and quality.
A ski range that's celebration of the landscape and the origins of the brand, starting from their names, the same as the famous ski area that is the flagship of Limone Piemonte: Alpetta, Cros, Limonetto, Cabanaira, Gorba...
Today Bottero Ski is no longer just a name but an internationally recognized brand in the craft of products dedicated to winter and summer mountain sports.
Ski, clothing and bikes that are the result of careful research and development in order to ensure the best in quality, all for you to try!