Sci Atomic Redster G9 Revo S con attacchi X12 GW
SCI DA GARA CON TECNOLOGIE E COSTRUZIONE ULTRAPERFORMANTE
PER ATLETI ESPERTI. Tutte le specifiche tecniche di questo sci Atomic lo rendono la scelta giusta per assecondare le necessità degli atleti professionisti.
GRIP ECCEZIONALE SU PISTA E CURVE ESPLOSIVE. Il Power Woodcore, anima potente, e la costruzione Ultrawall del Redster garantiscono un'aderenza al terreno senza pari, a qualsiasi velocità. L'esclusiva tecnologia Revoshock invece, ti assicurerà la giusta stabilità e grande accelerazione in curva.
OTTIMA RIGIDITÀ TORSIONALE. Questo sci Atomic è dotato di tecnologia da Coppa del Mondo Titanium Powered, un laminato ultra-resistente che scorre da sidewall a sidewall permettendo allo sci la giusta potenza e rigidità quando serve e grande assorbimento degli urti.
€689.00
(you save €420.00)
-37 %
Lowest price in the last 30 days since the promotion: 1109.00 €
Get a 5% discount
Subscribe to our newsletter and get a 5% welcome coupon for your first order over €100! Subscribe now
Assistance provided by professionals
ski instructors, MTB guides, skimans and professional mechanics
Ideal complements for this product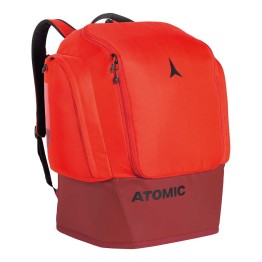 Technical features Sci Atomic Redster G9 Revo S con attacchi X12 GW
Pensato per garantire il massimo in termini di performance di gara** ai professionisti dello slalom e della corsa, il Redster è uno sci ad alte prestazioni che ti porterà sul podio.
DNA interamente da gara per questo sci Atomic, che grazie alla tecnologia Titanium Powered ed il Power Woodcore, presenta la stabilità, la rigidità torsionale e la presa su pista necessarie per mantenere la giusta sicurezza anche a velocità più elevate.
Il Redster G9 Revo S di Atomic è inoltre dotato della tecnologia Revoshock, che consente la giusta stabilità in velocità e grandi accelerazioni in curva.
| ski length | ski radius | ski sidecut |
| --- | --- | --- |
| 172 | 17.4 | 109-68-95.5 |
| 177 | 18.2 | 110-68-96.5 |
Season

Winter 2023

Sex

Unisex

Use

Curve Larghe

Sidecut

110-68-96.5

Radius

18.2m @177cm

Target

Esperto

Technology

Ultrawall - Revoshock-Titanium Powered- Power Woodcore

Bindings

X12 GW

Composition

Wood

Core

POWER WOODCORE

TIPOLOGIA

Ski

Terrain

Pista

Rocker

Camber Rocke

Construction

Ultrawall

Reference

AASS02740 222
Skier's level

9/10

Curve

10/10
Customers who bought this product also bought:
Other products from ATOMIC